Hybrid print:
Offset and digital

alternating on the fly
Our turbo machine, especially meant for large numbers of impressions
Hybrid production: a highly flexible procedure that pays off. For example, by our transforming pre-produced mailshots via Variable Data Publishing using offset printing or digital printing into the most customised champions in advertising media. Or by producing static illustrations, other illustrations or safety features using the offset printing process with special colours or fluorescent varnishes in advance and individualising them with 1 to 4 colours using the digital printing process.
Speaking of which: We achieve a high degree of colour accuracy through our sophisticated colour management system, which, across printing processes, guarantees optimum results between offset and digital prints.
One print run – 1001 individual versions
… e.g. in order to make enthusiastic buyers out of people who interrupt their order
Individualised printed means of communication are principal elements of a successful cross-channel campaign. By deploying personalised print mailings alone, webshop operators recorded a 12 per cent higher aggregate order value in the past year as well as an increased conversion rate (CVR) of 4.5 per cent. These mark clear signals for successfully connecting online and offline channels in cross-channel marketing.
Your benefits in plain figures:
Premium beauty dealer Douglas relies on print mailings of B&K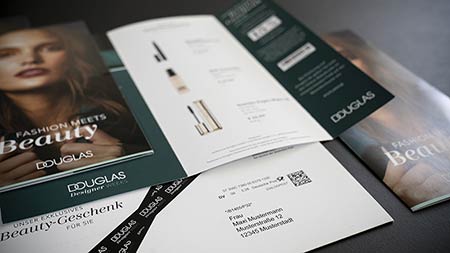 The same as from one plate
We have found B&K an ideal production partner to take care of our mailings from the planning to delivery stage. Hybrid mailings are a successful and cost-effective option for us. The outer pages are produced statically with offset printing, whilst the inner pages are fully individualised with various product images, discounts, barcodes, and texts using digital printing. The result makes it look as if a single plate has been used, with no discernible differences between the two printing processes.
The hybrid production is based on an image database and a customer-focused address list, which contains and defines all individual product proposals, prices, codes, etc. By using Variable Data Publishing (VDP), the data are then processed and can be digitally printed onto the pre-produced mailing. The result is that each recipient gets their very own personal message. The content is finely tailored to their wishes and needs.
Offset printing: pre-production of static outer pages
Variable Data Publishing (VDP): integrating individual content in templates
Digital printing: individualisation or personalisation of each copy
Improving address data: sorting and franking by post office or courier service provider specifications to maximise postage discounts